Koko M-King
Birthday: 24 August
Blood:  Type A
Hometown: California USA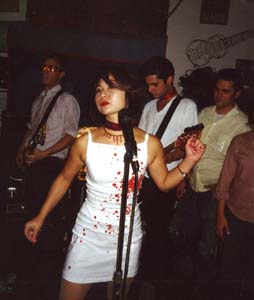 From San Diego, California. Koko is presenting sweet n' spicy urban clothing for women in 20's and 30's.
Koko's Maternity line. Hey, all prego girls listen up! Don't give up your high fashion just because you are pregnant. It is your chance to celebrate your new look in Hip & Sexy outfits by "The Hot Rockin' Mama"
Koko is also a punk rock singer in San Diego's local band, called "The Beehive and Barracudas". (CUDA'S in short) AND she is a mother of 3 girls! She rocks at local live houses after putting kids in the bed.